Event: A Date with New Renault Duster #DusterAWD at Lavassa
We just celebrated our 65th year of Independence on 15th August. How did you celebrate your Independence Day this year? Clubbing? partying? Watching Parades? Weekend drive? In Traffic Jam? Preparing for Lakme Fashion Week? Watching Trailer of Shah Rukh Khan starer HNY? Taking a day off? Well, I celebrated my independence day doing none of them either yet all of them. Confused? Silly me.
Here's how I celebrated my Independence Day this year. I did-
1) Drifting and mud splash
2) Steep climbing the hills and crossing deep water beds
3) Sharp cliff climbing with Mud Splash
4) Taking a Long drive to Mumbai- Pune- Lavassa and back
5) Chilling with some awesome bloggers and social influencers across the cities
6) Test driving a yet to be launch Car, that is #NotJustACar
7) Enjoying the hospitality of Marriott and ITC Fortune
8) Driving on the smooth-uneven-steep roads of Lavassa
9) Photo clicking
10) Reviewing a yet to be launched car with a team of specialist in an exclusive Convo
11) Leading the Convo with the leadership team and other drivers
I am sure that point no 1) 2) 3) 4) and 10) would have made you take over your seat and eyeballs rolling with curiosity. Here we go.
The Convo on the move
PS: Pictures in the blog is from multiple sources including my own camera, from Rutavi AKA Photokatha, blogadda Pictures, and Renault website.
About Duster AWD 4X4
The new Renault Duster AWD as the name suggests is an "All-wheel Drive" car with power to drive on all the four wheels, contrary to the standard "front- two wheel" set up. It comes up with 108.5 BHP 1.5-liter diesel motor with an all-new soft-touch dashboard, an all-new instrument cluster with a multi-information display, three-spoke steering wheel, and new fabric upholstery.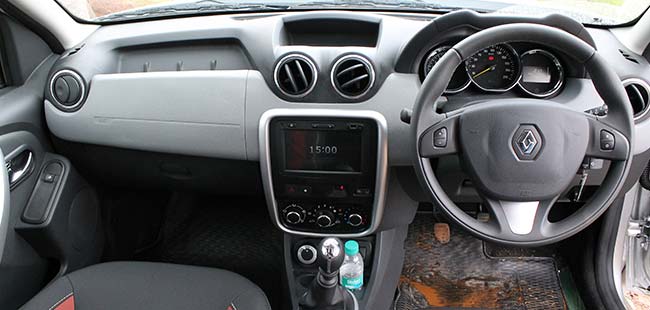 Duster ever since it's launch has turned a new leaf for Renault that went all solo in India some 3 years back. With its interesting concept of being a compact SUV with interesting features, price point, customers could not keep their hands or feet off, trying and buying the new Duster as they did with the previous variant of this sturdy car. If experts are to be believed, this car makes for great recommendations for different car rallies that take place in the country.
First up, the AWD. Unlike the traditional 4x4 mechanism, there isn't an option of engaging the 6-speed gearbox into low-range, instead, you get an electronically controlled AWD system that could be engaged on-the-fly with the help of a knob. You could slot it in permanent 2WD mode for your regular urban commute where it works like an ordinary front-wheel driven Duster, or switch to Lock mode, wherein the torque is equally distributed to all four wheels for better traction on tricky situations. This mode can be accessed till the speed of 60kph, after which it automatically switches to Auto mode. Renault has full faith in its AWD system and suggests we switch to Auto when venturing out in the wild as the electronics, when left alone, can do a better job on its own.
as quoted from

Top gear
My Overall experience-
With the look of my ear to ear smiles, I guess you would have read my experience. Yes, it was indeed good. Ever since the Renault Duster was launched in India, it's design inspired me. I always nudged my fiancee to see if an ATS is available in Duster, we must contemplate a buy. I guess after BMW, it was one car that I was very sure about :)
Thanks to the ever supportive and effervescent team of Blogadda and Renault, I could take a drive in this upcoming car. It has strengthened my good opinion about the model and I would definitely recommend people in my circle, and readers to try this car once. Rest as they say- The machine speaks for itself!
__________________________________
Follow Haute Kutir on
Instagram
,
Twitter
& Facebook