Wanderlust India and Kona Kona Kotak
India is a land of history, art, and culture. Every city is a new joy, an exciting marketplace, and stores some delectable, mouth-watering spots in it. Often we restrict ourselves to the luxury of big cities and tend to ignore some glorious kicks that small towns may hold for us. Less often, we at Haute Kutir, plan to take a trip to some of these such, not so widely known but glorious in their own, places, cities and chill the traveler in us.
While you may have traveled around the world, let us go to some corners of our country that never cease to delight us with its own heritage, culture and like I said- Food. Ummm
Today, we will talk about the different corners of India we can visit and different things we can do there. Lets Starts with Bijapur
Bijapur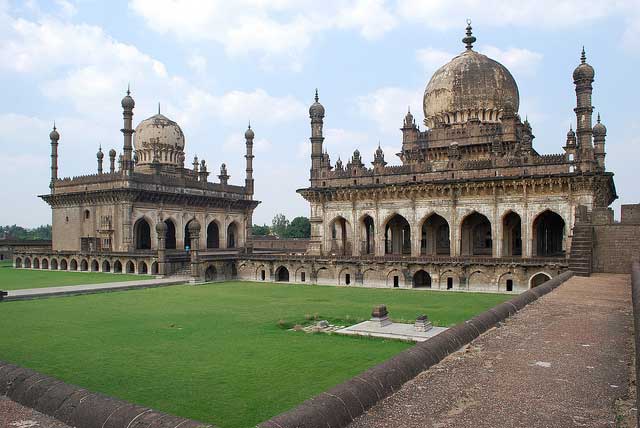 Situated in Karnataka, Bijapur is known for its historical monuments of architectural importance. It is about 550 km inland from Mumbai, 530 km northwest of Bangalore and 384KM west of Hyderabad city. If you ravel in exploring ancient cities, Bijapur is known to be one. It is the
land of five rivers and the domain of different cultures
I know Bijapur for its rich basalt rock carving. If you are visiting this city, then do explore seeing-
1) Gol Gumbaz- The largest dome ever built in India, and it's whispering gully
2) The Archaeological Museum is house to several curious objects like inscriptions, paintings, manuscripts, sculptures and more. It is near to Gol Gumbaz
3) Malik-e-Maidan- The largest medieval cannon in the world, brought all it's way from Ahmadnagar
6) Shree Siddeswar Temple
7) Basavan Bagewadi


You can reach Bijapur via road or train. I heard Hotel Basava Residency and Hotel pearl is a good place to stay.
2) Chikmagalur
My fascination with Karnataka does not end. It seems my trip to Tamara in Coorg was not just sufficient to cease the coffee lover in me. I wanted to explore more. And Chikmagalur fits the bill.
Chikmagalur is in the Southwestern part of Karnataka. Like I already suggested, here the major commercial crop is coffee and the place is known for the hill station and offers great summer retreat. Wow, what an interesting combination. Mountains, vegetation, scenic beauty and aha, Coffee.
Not just that, Chikmagalur offers a great haven for tourism and you can visit places like-
a) Mullayangiri- It is the highest peak in Karnataka and is located in the Baba Budan Giri range of the western ghats, at an altitude of 1930m above sea levels
b) Baba Budan Giri Hills- It is famous for its distinct forest range and is a pilgrimage site for both Hindu and Muslim.
c) Bhadra Wildlife Sanctuary
e) Kudremujh National Park
f) Hebbe Falls
g) Ayyanakere Lake
h) Sringeri Sharada Peeth
You can reach Chikamaglur by road or train from major cities.
While you are in Chikmagalur, do not forget to try Malanadu- a famous cuisine of the place made by spices and coconut milk. The other delicacies like Tovvu, Avare Kal, Gojju are worth exploring too
3) Bareilly- Let's move from down south to upper North and sing along me- Jhumka Gira re, Bareilly ke bazaar mein. Aha! So if you loved that super classic song from the movie "Woh Kaun thi" [who was she], I am sure you would be intrigued too about where was it AKA the "Bareilly ka Bazaar". Historically speaking, Bareilly,. way pack during the times of Mahabharat was the "Panchal" kingdom [the birthplace of the key Catalyst Draupadi]. So if you visit Bareily, you would definitely like to go to- Bareilly Haat [to look for that famous Jhumka, Surma that even Shamshaad Begum could not stop crooning about]. My piece of advice- Do buy the songs with "Bareily" in reference and it does so much magic while you are traveling to that city. Do visit Punjabi market as well and who knows if you can find that legendary Jhumka that once fell down in Bareily ke bazaar mein .
There is more to Bareilly than the market. The city is famous for "
seekh kebabs
" in terms of cuisines. For sports lovers, there's two sports stadium viz Dori Lal Agarwal sports stadium, Major Dhyan Chand Sports Stadium and, One Cricket Academy.
The city is also home to "Fun city and Boond water park" - termed as one of the best amusement parks in the entire Northern Belt. There are famous temples too in the city. And yes, do not forget to shop zari zardosi embroidered work handicrafts from there.
Well, that was a quick wanderlust list of some of the places I would love to visit in different nooks and corners of India, along with different landmarks, arts and cultural activities, food and things to do at these mentioned places. So what are you waiting for? Go ahead and splurge yourself in food, travel, and shopping. And with Kotak bank spreading across the nooks and corners, a la Kona Kona of India, you need not have to worry about your banking requirements and transactions. With #KonaKonaKotak, travel and enjoy hassle-free.
Bon Voyage!
Team Haute Kutir