Sports & Style: Welcome the Fashion Conscious Cricketers
Lights, Camera, and it is a Six!!
You see a guy running across the field – a perfect advertisement opportunity for a shampoo, a shoe company. He takes a full round-arm action like a well-oiled machine,
throws a ball like a bullet aim for its target – an opportunity for a range of products from gear oil manufacturers to tonic drinks. Today every action of a cricketer on the field is depicted as a
style icon
. What more is needed when there are multiple cameras capturing each and every action of players, live telecasting it to millions
of viewers across the world. Cricket is no more only a religion [cricket has crossed the status of a sport way back in India – believe it was 1983 ;) ]
but has become a Fashion extravaganza. Cricket is style; a never-ending Fad and cricketers are new style icons.
Gone are the days when players would wear plain white and striped cricketing uniform and step on the ground looking like pious "Gentlemen" stowing runs, hitting boundaries and taking wickets. Gone are the days when "Necessity was the mother of technical invention". Today's era is all about "Demands" creating "supplies" where Fashion is not enticing cricketers as much as cricketers are enticing fashion.
Man Makes Cloths, Cricketers Makes Fashion Headlines
When we talk about cricketers being more Fashion conscious, we are not just talking clothes but also, hairstyle, Shoes, sunglasses, Cricket accessories, and even the "sun protection" mask that they apply has been metamorphosed from just being a "sporting need" to style statements.
Besides, whatever they do, it gets not just the fans but the International Fashion circuit sit straight and take notice. Needless to say, Fans go gaga over their favorite stars and which gives them more opening than the batting line. And if that cricketer scores a boundary or hits a six, history is made right there on the cricket field.
Sporting a cool look not just sets you apart but sets up the ignited heart of all female fan followers including yours truly who fell "love at first sight" over Rahul Dravid before seeing his match or counting the no of runs he scored or not scored. While my friend took a deep sigh on Dhoni's army cut hairstyle contrary to his lovely long hair. See!
Fashion On field and Off-field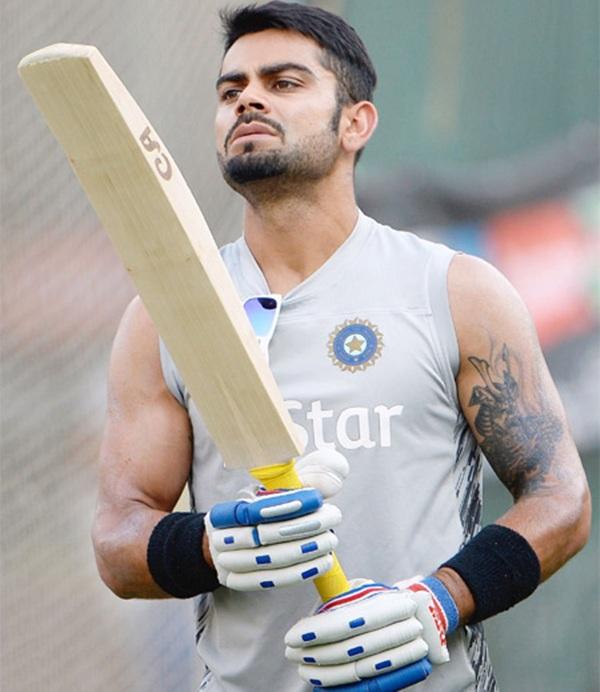 The On-field the scope of Fashion is limited. The Jerseys are laden with advertiser's logo. However, if you watch closely, the jerseys have been specially designed by the top designers and global clothing brands. Everybody vying for their favorite stars to sport their designs. When cricketers wear blue, India "bleeds Blue" all through Social Media and International forum including catching advertisers like Pepsi's fancies. While you cannot do much about design there, there is a lot of scopes left in showcasing shades you use or the different hairstyles. And if you are some like Daniel Vettori, even the spectacle that you wear, becomes a fashion statement and you look like Greek God.
Jersey no 10, became such a huge hit cause it has Sachin's name on it. Some of recall Brendan McCullum and Mitchell Johnson when you say Tattoo. Would you recall Sunil Narine as much if it wasn't about the "Mohawk" he is sporting? As I am writing this, I am pretty much fascinated with Lasith Malinga's hairstyle and planning to get myself one. Seriously it made a great discussion point around the world.
Cricketer has to look good even when he is falling down chasing a wicket or hurling a catch. There are multiple cameras placed in cricket stadium to record a match from different angles for the Live telecast across billions of TV sets around the world. They are not just multiple cameras, they are also the most sophisticated ones, ultra-motion cameras, spider cams and more. After all, this, if a cricketer gets fashion conscious, what is his fault? We all love good looking men.
Cricketers also work hard to keep themselves fit and toned for the game. Now if you have worked so much on that body, it is imperative to show it too. These things make cricket matches interesting and bring fans to the stadium to watch their favorite cricketers play live. Otherwise, Sixers even the gully cricketers strike.
"Whenever I do shoots, I have my own personal hair and clothes stylist. I love wearing clothes that match my personality and I am conscious of the brand image I carry." Yuvraj Singh
Over the year, as the country become more fashion conscious, Cricket apart from love for the game has spun newer trends and bowling its way into altogether a different era- Style and Fashion. It is not fashion that is empowering cricketers but Vice Versa. After all, it was Kapil Dev who made "Palmolive da jawab nahi" a rage. It was his personality that launched millions of ships and set hearts on fire. Today, Virat Kohli does not need a branded shirt, but the brand needs Kohli to endorse it. He recently launched his own fashion label. I call it fashion becoming Cricketer conscious.
Off late, cricketers have been publicized and are appearing on different platforms, garnering a larger fan base. In such a scenario, it is but natural for them to be groomed well. Given the kind of enormous fan following they have, cricketers naturally would want to step out looking their best. It is not just them, but BCCI too and hence roped in luxury multibrand store The Collective to provide True Religion Jeans to Players.
In nutshell, being Fashion conscious also means being image conscious. With TV repeat technology, you get to see your suave players multiple times. Cricketers are becoming Fashion sensitive and it is a good change especially for the female followers who love sports stars more than movie stars. Cricketers are the most sought-after youth icons of India and if they look good, it is a cherry on the cake.
Next maybe 6 pack abs or 8 packs abs that we would like our players to flaunt ;)