The New Motorola E Handset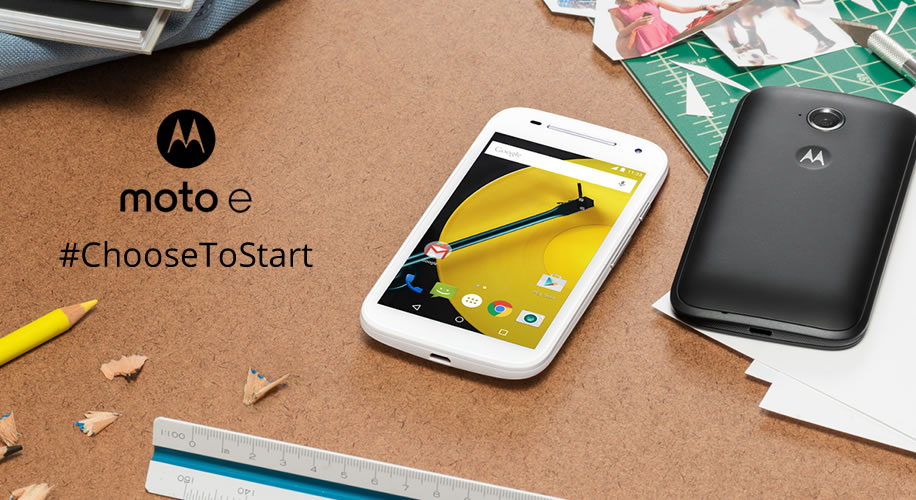 Life is full of firsts. From First perambulator to first bicycle to first bike, first laptop, first car and so on. Every first is as special that none can be. Like First love, it always lingers in our life. Life first kiss, it is always special and like first paycheck, it is always redeeming the hardwork you have done. There is no "second opinion" about the "first" in life. Often we look to bring back that charm in our lives but unfortunately we barely every get a second chance to re-live our first, special emotions.
So if you are the one who was fascinated with his/her first or do realize the importance of "firsts" in life and want to have another chance, you must know that there is a certain first that you can bring back in your life. I am talking about a brand, a product brand with a brilliant technology breakthrough that penetrated in our lives in late 90s, making them Products you cannot live without- Mobile Phone
I am talking about MOTO
I remember the time when mobile phones were introduced in India. Cell phone was such a rage.That inspite of sparse availability and high priced, it was one of the main option in everyone's wishlist. And there was a that personified this rage, this brilliant innovation. It is that one brand- Motorola
I still remember the "Hello Mots" campaign that took everyone with storm and being the "first" ever handset manufacturer available in India, Motorola was a name to reckon with. It was indeed the "first phone" that everyone held with pride, elan and a sense of achievement.
First Love, last Forever
Time moved on. As market developed multiple brands and technologies emerged. from plain vanila- Push to Talk phones to designer crystal studded handsets to whole new generation of smartphones, a lot have changed. Today is the era of multi utility #Smartphones. So when we started our "first ever mobile experience" with the breakthrough called Motorola, a Six Sigma driven company that focus on nothing but best, then why not rekindle that first love back, at this time of "smartphone"?
Let's
#ChooseToStart
our "first smartphone journey" with another breakthrough product from able [six sigma] stable of Motorola- Moto E.
Starting with Moto E
Remember the first time you fell in love? It was uncomfortable, nervous and "if I can do it" feeling. A lot of us, being the hopeless romantic, we craved to fall in love and when love beckoned us, some of us developed cold feet and ran away. A similar psyche works with smartphone. Last year when I asked my parents to change their basic handset to smartphone, they became apprehensive. "It is complex" they said. Apparently they were scared to start using a smartphone, given the complexity that they stick to their old, outdated phones in name of convenience. Ummm that convenience needs to be redefined.
So when I was
reviewing a new Motorola handset
sometime back, I was so smitten with the handset [Moto X] and the way the brand has translated "usability" in to "user interface" that I decided that this is the brand that I will give to my parents and all those who #ChooseToStart with a smartphone.
#ChooseToStart for Your new Selfie
Every body loves clicking pictures and with 5 Megapixel rear camera and a secondary camera, New Moto E is one perfect smartphone for all your amateur photography needs. It is on the go product that you can carry anywhere and shoot anywhere.
With "Quick Capture" it is just two twists in wrist, you can start the camera anytime, quickly to capture a picture without even touching the screen. Isn't that wonderful?


#ChooseToStart Internet browsing at 4G speed
The new Moto E is a LTE enabled handset, which means it will support the fastest Internet network in India. So now start browsing the web [on the move], stream videos, stream and share pictures, search for places, all on the go and the comfort of your hand.
#ChooseToStart with long battery life
Usually you will hear people complaining about the battery strength or the lack of it for their smartphones. With new Moto E and 2390 mAh battery, it is designed to last for the whole day. So keep going without worrying to recharge your phone and keep making the most of your #Smartphone
#ChooseToStart with a Quad Core Processor
The new Moto E has a powerful Qualcomm® Snapdragon™ processor with a 1.2GHz quad core CPU and advanced graphic. You can switch back and forth between multiple apps without having worried about any device hung ups. Need I say more?

#ChooseToStart with Moto Migrate
Migrate your old phone data with Moto's excellent feature- Moto Migrate. A pre loaded software that enable you to transfer your crucial data including your address book [it's a great pain point that prevent people from switching from their old handsets [read 2G handsets] to new, fearing the long process of using software data cable, pC suite etc. Now just sync the phone and get it done!

#ChooseToStart with a 4 and 1/2 inch Display
The experience gets bigger, wider and richer!

To add to that, I have a conservative view when it comes to spending on mobile devices. While feature is the demand aggregator, I believe it is the price that does a lot of math. If splurging too much on smartphone when a new code is burst everyday is not sensible, then compromising for low features is neither acceptable. At such dichotomy, the new Moto E comes like a Manna from heaven, in a price and feature that is truly Value for for money. So #ChooseToStart with a product that is totally #VFM
So, what are you waiting for. Like your first love, the first ever brand to launch in India- Motorola is beckoning you again. Get up and grab a Moto E today. It comes straight from the company that pioneers in quality standards including being a fore runner of
Six sigma
in the world, wherein there is no room for error but a big arena for a spectacular smartphone experience. Besides, it looks svelte and cool too. Choose your color and
#ChooseToStart
with Moto E.
Technology is changing
Phones are getting #Smart
I must embark on the new tech journey
With Moto E, I #ChooseToStart.
Its works like a wonder
switches between apps as smooth as cream
Simple and colorful User interface
that loads quicker and fast.
With Moto E, I #ChooseToStart.
I am done with Voice and simple telephony
and those boring looking phone's cacophony
Time to "Quick capture", snap and make photo art
With Moto E, I #ChooseToStart.
I need no TV nor radio
For I can easily access all the content on the go
On high resolution, 14.5 inch screen
My phone is full of utility, I scream
I will never let it part
With Moto E, I #ChooseToStart.
Hello Mots!